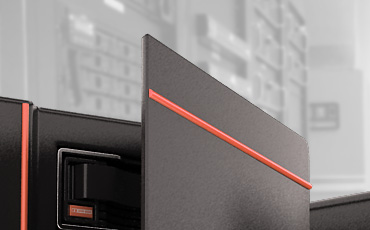 MyServLink Networks is NOT A SERVER FARM! It seems over the last few years, everybody is in the hosting business. In truth, 99% of these companies are simply folks that are reselling their hosting service that they pay ~$20mo for, loading as many accounts in as they can sell, sometimes as many as 1000 per server……Some (most) don't even operate here in the US….
At MyServLink Networkswe take a very different approach. We treat every account with the respect they deserve, regardless if they are a Level1 or Level5 acct. Our servers are ridiculously UNDER-LOADED BY DESIGN. This gives your site the robust feel you and your customers expect. Every account gets the personal attention of our skilled technicians…..We are always a phone call or email away 24x7x365. Need help moving in? We are there for you!
MyServLink Networks hosts all client sites on only the highest quality multiprocessor servers available today. What this means to you… little to no downtime for your site. In fact, around here, server up-time is measured in years….where most data-centers are rebooting servers weekly or more…..
At this point you are probably thinking "….how can a small outfit that is not named Daddy something tout such claims?" Simple….We put all our efforts into YOUR hosting satisfaction, rather than SuperBowl ads, and Indy cars. At MyServLink Networks, the customer comes first, and always will.
The technicians behind the scenes at the data-center have been involved with the internet since 1990! Initially we were a local ISP in NW Oregon, serving local dial-up and DSL customers. The ISP company was sold off in 2003. This left us much more time to concentrate on the hosting business we do today.
MyServLink technicians also maintain corporate networks and continue to be solution providers as we have since the mid 90's. Where most other companies tell you what YOU can do, we look at the problem, your idea as to what you want or need, and offer a solution.
Our servers are all resident in a carrier class data-center monitored around the clock with full redundancy, so if one of the multiple tiers to the internet fail, another picks up and re-routes the traffic on the fly. The data-center is fully secured and is full power backup and fire safety in place. You can sleep at night knowing your data is safe, and working 24x7x365.